Mediterranean seafood to Michelin starred restaurants in China
Undercurrentnews.com echoed Peixos de Palamos entering on this market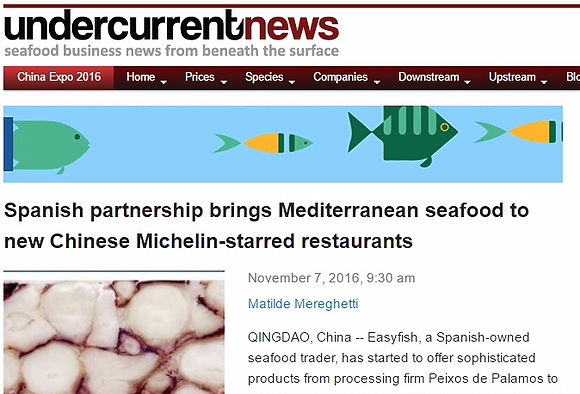 The publication refers to the fact that Peixos de Palamos has begun to offer sophisticated products processed in establishments in the Chinese city of Shanghai.
Collects Joan Gimbernat statements, Easyfish general manager, who has an agreement with Peixos de Palamos ensuring that ' we are selling the best products of the Mediterranean for some of these new Michelin star restaurants such as Paul Pairet's Ultraviolet and Joel Robuchon L'Atelier. '
Also contains the words of Gerard Obiol, Peixos de Palamós' Sales Manager ensuring that ' we buy fish of the best fishing ports when in season, transform it and freeze it in our plant, on the Costa Brava, following the whole process to make sure that quality remains extremely high, from catch to delivery in Shanghai. "
Undercurrent news explains Gimbernat and Obiol, who are friends from long ago, launched this new business this year, just after having detected there was a demand for sophisticated sea products in the Chinese market, both by local chefs and international. "
Also informs that workshops for Chinese chefs are held to show them how to cook their products. The news also includes brief notes on the two companies. About Peixos deh Palamos says that develops sophisticated products like octopus carpaccio or cuttlefish pappardelle while regarding Easyfish says it has been operating in the Chinese market for 20 years and continues trading seafood internationally and has offices in Shanghai and Qingdao.