The Palamós Prawn
Where does the fame of the Palamós prawn come from?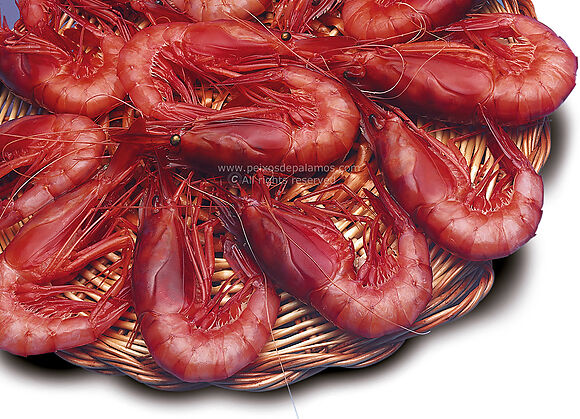 Few Catalan products have the fame and prestige of the Palamós prawn. However, if it has this recognition it is because it is worth it: the prawns are a gastronomic treasure of the first order that even has a seal of quality. A gift from the Empordà coast that even the most gourmet palates appreciate.
This species is so special because it feeds on the marine fauna and flora found on the seabed in this area, which is why its flavour, sweeter than that of other prawns, is unique, and more powerful and delicate at the same time. In addition to its characteristic reddish colour and firm texture, it brings a lot of freshness to the mouth.
The seabed where it lives, which extends on both sides of the Girona town that gives it its name, is full of canyons and slopes. The shrimp finds an ideal habitat: rocky, at a depth of around 400 metres, with an ideal biodiversity for its development and a diet based on algae, minerals, etc.
Although it may come as a surprise, the Palamós prawn is not an ancient product. In fact, it was discovered not even a century ago. Historians date a decisive event to 1930: it was that year when anglers from Ametlla de Mar, a town on the south coast of Catalonia, arrived in Palamós and taught the locals how to trawl fish: a net is thrown from the boat and dragged along the seabed, catching whatever it finds in its path. Among other animals, the red shrimp. The introduction of this fishing method was followed by a success story. From the sea to the plates of anglers and local households, then to restaurants, and thus to an ever-increasing fame.
The best time to catch it is between May and July. The anglers go out at dawn to the fishing grounds where they live to cast their nets. In the afternoon, they return to collect them and, if they manage to catch them, auction them in the harbour. It is a sight worth experiencing in order to appreciate this exquisite food.
They are a pleasure to grill, perhaps the most popular and grateful way of cooking them, although they can be cooked using other techniques. However, do not forget the best part: sucking the head to extract all its essence. In fact, several restaurants in Palamós and Sant Antoni de Calonge celebrate every year, from May to July, the Gamba Menu, whose motto is 'Suck the head and lick your fingers'.